CENTENNIAL POSTER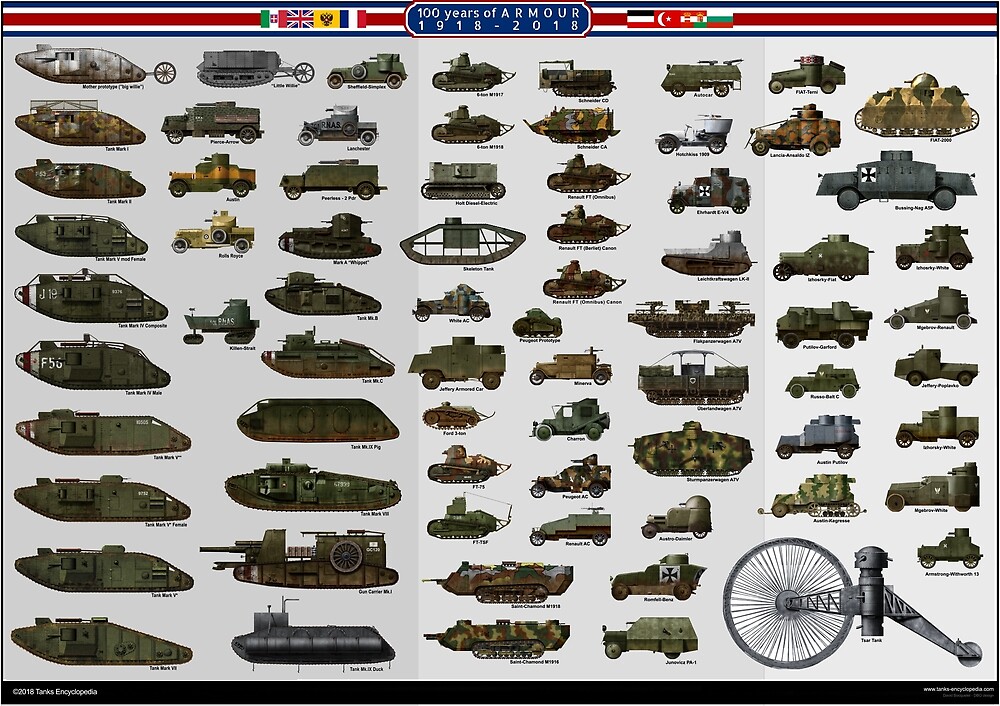 Here is a 50×65 cm (A1) poster depicting WW1 tanks and armored cars of the "war to end all wars". You can also support tanks encyclopedia too by adding this one to your collection!
Several models are brand new there, like the Sheffield-Simplex, Peerless AA truck, or Canadian Autocar. Almost all belligerent are represented (including Turkey with the Hotchkiss 1909), but Japan.
Start your collection and support us !…
Since 2014 David Bocquelet released a handful of tanks posters, mostly on ww2-related topics. In 2018 others will follow. These posters help us to host the website and create new posters (one poster on average can take 6 hours or more, not including the work performed on the illustrations themselves! That's teamwork as entries in a poster are a matter of team debates and balancing decision to include or not some models/variants, etc.
-Currently brewing:
-Updates for the global US Poster, and four others.
-Centennial of British Tanks (all models and eras) (80%)
-Cold War Soviet Armour (70%)
-Cold War American Armour (60%)
To come:
-Swiss armour (global)
-Italian armour (global)
-ww2 heavy tanks
-cold war British armour
-ww1 tanks and AFVs
Feel free to suggest one !!!
Tailored printings:
In addition, we can provide true HD printing versions which can be .Tiff or .Bmp, converted to CMYK. The very large versions available for wall posters (2 m x 3m and more !) can be sent, at around 500 mo, .tiff CMYK format. Contact us! Also now on ArtPal
NEW ! – WW2 Greatest Tank Aces Collections
Tank Fleets collections
---
Other Individual posters
Upcoming