The first modern armored car
Among the very first armored vehicles in history, two can be truly seen as pathfinders: the Franco-Russian Charron and the Austro-Daimler Panzerwagen. Both had all the ingredients of modern armored cars, fully armored bodies and a 360° traversing turrets armed with a machine gun. There was, however, a major difference between the two, the Austro-Hungarian vehicle was based on a 4×4 chassis, affording it some off-road capabilities.
Unfortunately, these designs were far too ahead of their time, and their potential was not recognized due to the military mentality of their era. The car industry was just too young, traditional views on cavalry were still predominant and thought efficient due to the lack of evidence to the contrary.
Design
The Panzerwagen was designed under the supervision of Paul Daimler, the son of the famous Gottlieb Daimler and chief engineer of the Osterreichisches Daimler Motoren AG. Factory specifications included four wheel drive and a particular fully armored, fully enclosed curved body made of 3 to 3.5 mm (0.12-0.14 in) thick metal.
Its other peculiarity was a dome-shaped rotating turret with 4 mm (0.16 in) of armor. The turret housed one or two machine-guns. Two versions were built, one with twin apertures and a half-open rear and the other, fully enclosed, with just a single machine-gun port. It was propelled by gasoline 4-cylinder, water-cooled, 4.41 liter engine that produced 35 hp at 1050 rpm.
The driving compartment was not separated from the fighting compartment. Both the driver and co-driver's seats were adjustable in height, and could be raised to see from over the rooftop. The field of view from inside the vehicle was quite limited, with no side slits and just two small front windows with shutters. The 4×4 chassis necessitated shafts and differentials at the front and rear. While the Austro-Daimler Panzerwagen showed some ability for climbing moderate slopes, off-road capabilities were average.
Fate
The Panzerwagen was demonstrated to the German Imperial Army at the Kaiser Maneuvers of 1905, and to the Austro-Hungarian Army in 1906. Neither of these countries ordered it. Although two were built (or a single one modified between 1904 and 1905), this vehicle was not a commercial success, contrary to the Charron.
However, the Austro-Hungarian vehicle preceded the Charron by a year, leaving the Austro-Daimler Panzerwagen to claim the title of the world's first true armored car.

The 1971 Sergio Leone movie Duck, You Sucker! (also known as A Fistful of Dynamite), set during the Mexican Revolution, includes a prop armored car, clearly inspired by the Austro-Daimler Panzerwagen. Source
Links
WWI armored cars on Landships.info
Austro-Daimler Panzerwagen specifications

Dimensions
4.1 x 2.1 x 2.7 m (13'5" x 6'11" x 8'10")
Total weight, battle ready
2.9 metric tons
Crew
3 (driver, commander, machine-gunner)
Propulsion
Daimler gasoline, 4-cylinder. water-cooled, 4.41 liter, 35 hp at 1050 rpm
Speed
22.5 to 45 km/h (14 to 28 mph)
Armament
1 or 2 water-cooled Maxim machine guns (7.62 mm/0.3 in)
Armor
3-4 mm (0.12-0.16 in)
Production
1 or 2

The early version of the Panzerwagen, with a single machine gun and fully enclosed turret. It is shown here in green livery, however some photos may also indicate a pale grey-blue or even white color scheme.

The first type, with a fully enclosed turret and a single machine gun. Source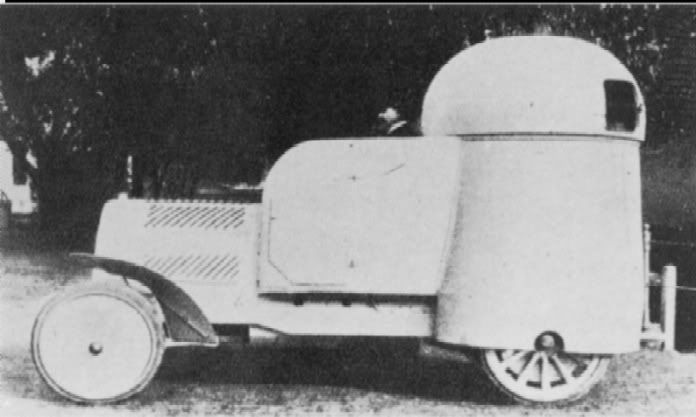 Side view of first type. Source

The second type with twin machine guns and a rear-open turret. Also notice the headlamp. Source

Side view of second type, 1906. Source