Freccia IFV
Italy (2006) Infantry Fighting Vehicle - 600+ built, ongoing
The "Arrow", fast Italian 8x8 IFV
After taking a great amount of development to design the
Centauro
, one of the very best wheeled tank in the world today, also adopted by Spain and copied by the Chinese, there was the possibility to convert the vehicle into a multitude of variants. Soon the Veicolo Blindato Medio "Freccia" ("Arrow") was a reconfigured variant acting as a wheeled infantry fighting vehicle declined into operational variants, which production is ongoing today for all Italian units procurement. It is up-armoured and equipped with the Hitfist turret, an evolution of the
Dardo IFV
turret with a 25mm autocannon in addition to ATGM, mixed with the Centauro's advanced fire control system, while as the same time, it is capable of bringing eight combat-ready troops, much faster than the
VCC-2
which its replace.
Design Development
The VBM Freccia (Veicolo Blindato Medio or "medium armored vehicle" IFV was developed as a variant of the Italian Centauro B1 tank destroyer, which leads some sources to call it Centauro VBC. It was developed as a private venture, aimed to meet Italian Army requirement, calling for a wheeled IFV to operate alongside the Centauro. The first prototype was completed in 1996, pocured to the Army, and field-tested. These tests were succesful, leading the Italian Army to order its first batch in 2006. The first of this 249 vehicles batch was delivered in 2009.
Hull and Mobility
Protection and construction of the hull is generally similar to the Centauro, and made of welded steel RHA all around. Exact thickness of the glacis is unknown, but the vehicle is said by the manufacturer immune on its frontal arc against 25 to 30 mm rounds (so same as the main armament, and standad for IFVs today). All-round protection is provided against 14.5 mm armor-piercing rounds. The Freccia's underbely had a V-shaped section and can withstand 6 kg anti-tank mine blasts. Add-on Protection covers are also available to withstand 8 kg mine blasts under any wheel. The vehicle is design to still running with two tires blown up. There is also a centralized inflation system. Crew protection is assured with full collective NBC protection, slight overpressure to vent off toxic gasses, and automatic fire suppression systems. The driver has its own hatch and three sights, including a cetral IR one for night operations. It is far back of the nose, occupied by the engine compartment and transmission. On the APC variant, the commander/gunner is located in the middle of the troop compartment, with a single hatch opening backwards surrounded by a railing supporting the MH3. The APC has a monocoque hull construction based on high hardness steel. Add-on armour suites are available to protect all variants against direct fire, land mines and IEDs.
The VBM Freccia carried a crew of three, with the commander, gunner and driver located at the front and in the turret. In the rear compartment, the VBM Freccia can carry seven to thirteen fully equipped troops, if the crew is fighting on foot as well, entering and leaving the vehicle through the rear ramp and sealed roof hatches (for NBC protection). This is a hydraulic ramp. The hull is slightly longer and narrower, and fully waterproof in order to cross one meter of water. But due to its weight it is not amphibious and could be only air lifted by a C17 class plane. The VBM Freccia after compartment offers 13.5 m3 of internal volume, and it could load a 10 tonnes payload.
The VBM Freccia is powered by a diesel engine rated for 550 hp. This allowed it to reach 110 km/h on road, down to 60 kph and below opff-road, and reach a range of 800 km. It is a 8X8 armoured wheeled vehicle with hydraulic suspension arms, and twin side mounted drive shafts in place of the traditional single central shaft for the transmission, sparing internal space. The Iveco engine driving an automatic gearbox with independent MacPherson suspension. It is coupled with extended travel hydro-pneumatic units and agility granted by a 3-axle steering and powerful disk brakes. This innovative "H shaped" transmission also helps maintaining a low silhouette and more stealthy profile.
The independent hydropneumatic MacPherson suspension is avilable on each wheel, derived from long suspension travel. A full command, control and communication system is also serial; with digital touchscreens for better battlefield awareness.
Armament
The main difference of the Freccia resided in its OTO Melara Hifist Plus turret. It is an improved variant of the Dardo IFV model, armed with a 25 mm autocannon, completed by two 7.62 mm machine guns. The main gun is similar to the US Bradley autocannon. It is provided wot 200 rounds, either HE, AP, and tracers. The turret was modified to carry ATGWs on its side, canisters for two Rafael Spike MR/LR anti-tank guided missiles additionally. It was developed as a tank destroyer variant and also ordered. The secondary armament of two 7.62 mm machine guns Rheinmetall MG03 is mounted coaxially of the autocannon, the other mounted on top of the roof, a cupola railing for AA fire. The pintle mount also can support an external 5.56/7.62/12.7 mm MG. There is also an optional Leonardo HITROLE™ 12.7 mm remotely controlled overhead weapon station. The IFV is given a coaxial 7.62 mm MG as standard and turret mount for an external 5.56/7.62 mm MG. The Anti Tank configuration can fire two ready missiles and 8 spare missiles stowed in the hull.
Procurement, variants and exports
In 2006, the Italian government ordered a first batch of 249 Freccia IFVs splitted between 190 IFV, 36 CAT (Combat, Anti Tank), 2 CP (Command Post), and 21 Mortar Carrier delivered all by 6 June 2017 and affected to the Italian Mechanized Brigade "Pinerolo". In December 2019, a further 81 Freccia were ordered, again splitted between 5 IFV, 36 CAT, 26 CP and 14 MC (Mortar Carrier). An additional 300 Freccia EVO (Improved version) is scheduled in order to procure 180 in the version versions above to complete the modernization of the Mechanized Brigade "Aosta", and 120 of the EVO Reconnaissance version for the army's cavalry regiments. For active protection, the vehicle also had four smoke dischargers installed on the turret's side. They can be fired manually or cued automatically via a laser warning receiver.
"In 1996 the Iveco-Oto Melara Consortium (CIO) sent the last Centauro products for the Italian Army and in the same year a prototype, variant of the Centauro was completed, called VBC (Armored Combat Vehicle) or VBC-25 also exhibited in June '96 at Eurosatory in Paris. The vehicle featured an OtoBreda T-25 turret (hence the designation VBC-25) with a 25 mm Oerlikon Contraves KBA gun, a 7.62 mm coaxial machine gun and 5 slits (4 side and 1 rear).
The VBM Freccia is a Medium Armored Vehicle (VBM) developed by the Iveco-OtoMelara Consortium (CIO), supplied to the Italian Army. The Freccia is a vehicle designed to replace the old M113 and provide better armament and protection than the latter. Following the development of the Freccia, IVECO has designed an amphibious version of the Freccia, defined as VBA (Amphibious Armored Vehicle). The official name of the Freccia is Centauro AIFV "Freccia". Initially the abbreviation that marked the Arrow was VBC (Armored Combat Vehicle), later changed to VBM. The front armor of the VBM Freccia protects the crew from 25/30 mm bullets. Protection can be increased to protect against mines and explosive devices. The VBM Freccia can be equipped with NBC (Nuclear Biological Chemical) protection. The Freccia in its standard version can contain 8 soldiers + 3 crew members. Versions with a larger capacity have probably been planned.
A version with an Oto Melara 60/70A turret with a 60 mm gun was also presented. Following the initial prototypes, the VBM Freccia was developed in many variations. The main ones are: Combat VBM (AIFV), VBM Controcarro (ATGW), VBM Mortar holder, VBM Command Post, VBM Ambulance, VBM Recovery:
Combat VBM (AIFV: Armored Infantry Fightning Vehicle)
The VBM Combat is the basic version of the Freccia: it is equipped with a HITFIST 25 Plus turret with a 25 mm KBA gun (HITFIST by Oto Melara while KBA by Rheinmetall Italia S.p.A). To the right of the turret, two optical systems are installed (one of which in the Command Post version) which are the Lothar (Land Optronic Thermal Aiming Resource) and Janus (both by Galileo Avionica). The Janus system allows you to search on the ground without having to move the turret (which happens instead for the Lothar). While the Lothar system has a small wiper, the Janus system does not have it, which at high speeds and hostile environments causes the optical system to get dirty without the possibility of cleaning.
VBM Counter-tank (ATGW: Anti-Tank Guided Weapon)
The VBM Controcarro has the same equipment as the Combat version, including a Janus viewer. The difference between the two versions is the installation of single launchers for Rafael Spike counter-tank missiles. The launchers can be controlled separately via two consoles. During Eurosatory 2012, a HITFIST turret with 4 tube missile launchers was presented.
VBM Mortar carrier
The VBM Mortar Holder does not have a HITFIST 25 Plus turret but is equipped with an opening on the vehicle, where a mortar can be installed. The weapon supplied to the Italian Army is the 120 mm Thales 232M, equipped with a recoil cushioning and semi-automatic loading system.
VBM Posto Comando (CP)
The Command Post configuration does not have a turret, with the rear part raised and equipped with additional radio systems. A 7.62 / 12.7 or 40mm HITROLE remote control turret can also be installed.
VBM ambulance (Ambulanza)
The ambulance version has the same hull as the Command Post version but the interior has been adapted to rescue the wounded.
VBM ARV (Recupero)
The Retrieval configuration is intended for rescue and is equipped with tools for removing obstacles.
Detailed specifications (pdf)
"The VBM Freccia Armoured Infantry Fighting Vehicle is an 8X8 wheeled armoured vehicle which combines the proven and highly reliable drive train of the 8X8 Family with a hull especially designed to ensure maximum crew survivability. The inner volume of about 11m3, can accommodate a driver, a two man turret and 8 fully equipped dismounts. Hydraulically operated, the low angle rear ramp allows particular ease of access and dismount capability with special consideration given to troops laden with heavy kit. The VBM Freccia design is focused on providing the infantry with the firepower and protection they need to undertake their mission effectively, be it in war or peacekeeping. To this end, it is equipped with a two-man HITFIST™ Plus turret mounting a 25 mm or 30 mm cannon as well as the associated fire control system and a range of sighting systems. A coaxial 7.62 mm MG is standard. A mount for an external 5.56/7.62 mm MG is available if required. In the Anti Tank configuration the turret can be fitted with two Anti-Tank Guided Missile (ATGM) system. Two missiles are ready to fire in external launchers and 8 missiles are stowed in the hull. The adoption of the innovative "H shaped" transmission with twin side mounted drive shafts in place of the more traditional single central shaft, provides the vehicle with a low silhouette and an inherently more stealthy profile than others in its class. The VBM Freccia has outstanding tactical mobility, based on its powerful Iveco engine driving an automatic gearbox and enhanced by 3-axle steering. Independent hydropneumatic MacPherson suspension on each wheel provides exceptional ride quality, also derived from long suspension travel. The vehicle is equipped with full command, control and communication system and is the core platform of the netcentric scenario."
Detailed specs pdf
Variants
Freccia Combat (IFV): two-man Hitfist turret with KBA 25mm autocannon
Freccia Combat Anti-tank: Two-man Hitfist turret, KBA 25mm autocannon, dual Spike LR ATGM
Freccia Command Post: A-Freccia Tactical Squad, B-Freccia Command Squad which differed by their com equipments
Freccia Mortar Carrier: With TDA-2R2M 120 mm mortar.
Freccia EVO: Development of the Centauro II with a remote Hitfist OWS turret with 30mm autocannon.
About the Centauro II
In July 2018, the Italian Army signed a €159 million contract to acquire 10 Centauro II tank destroyers. There is a planned 150-vehicle order, and this vehicle is based on the Freccia chassis, with a two-man turret featuring a 120 mm gun, digital communications system, 720 hp engine for 24 hp/ton, and wheels outreaching the hull for greater stability and mine blasts.
Freccia EVO
The Freccia EVO is a development of the Centauro II with the remote Hitfist OWS turret and 30mm autocannon. The Regio Esercito plans to acquire 300 Freccia EVO, including 120 of which in the Recce variant.
Freccia EVO Combat: Remote Hitfist OWS turret/30mm autocannon
Freccia EVO Reconnaissance: Same but with Janus sensor mast
Italian Army Units:
Mechanized Brigade "Pinerolo":
9th Infantry Regiment "Bari"
7th Bersaglieri Regiment
82nd Infantry Regiment "Torino"
Mechanized Brigade "Aosta"
5th Infantry Regiment "Aosta"
6th Bersaglieri Regiment
62nd Infantry Regiment "Sicilia"
Mechanized Brigade "Sassari":
The Freccia EVO Reconnaissance and Centauro II will equip the army's cavalry regiments. No external theater deployments yet for the regular Freccia, but the vehicles participated in numerous pan-European exercises. -
The previous centauro, in the Regiment "Nizza_Cavalleria" (1st) Centauro Tank Destroyer column in Cincu, Romania, 2019
82nd Infantry Regiment Torin VBM Freccia Mortar Carrier
VBC of the Brigade Pinerolo
Interior
VBC 8x8 IGV with high angle gun
Dardo IFV specifications

Dimensions
7.6 x 2.9 x 3 m (24 x 9 x 9 ft)
Total weight, battle ready
28 tons
Crew
3 (driver, cdr, gunner) +8 troops
Propulsion
IVECO Diesel 5HP-1500 V6 405 kW (560 hp) 22.2 hp/t
Suspension
Hydropneumatic
Top Speed road/off-road
105 km/h (65 mph)/30 kph (19 mph)
Operational maximum range
1000 km (620 mi)
Armament
25 mm Oerlikon KBA25 (200 rds), 7.62 LMGs, see notes
Armor
Welded steel, ceramic applications.
Production
400+ so far
Links about the Freccia-IFV
The Freccia IFV on Wikipedia
Photos CC
On military-today.com
On armyrecognition.com
Official site OTO
On warwheels.net
In the news
3D model
On military factory
On army-guide
On wikipedia IT
On militarypedia.it
Illustrations
Freccia Infantry Fighting Vehicle as of today in its basic form.
Modern Tanks
---
Modern MBTs posters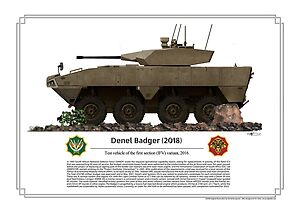 Denel Bagder (2018)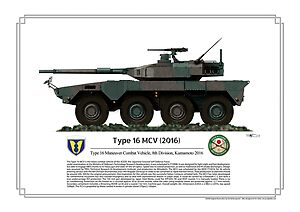 Type 16 MCV (2016)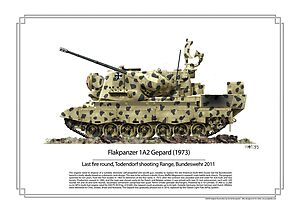 Gepard 1A2 last rounds 2011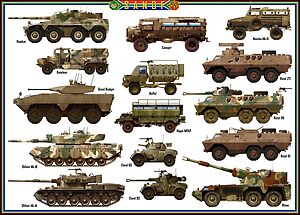 SANDF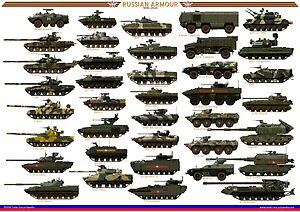 Russian AFVs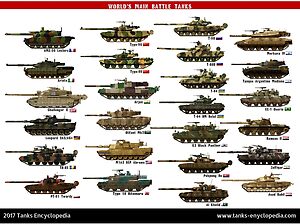 Main Battle Tanks