The first online Tank Museum
---
THE Destination for Tanks enthusiasts.
New entries: SEO Posts pending review
Latest entries:
TOS-1 Buratino (1988)
26.01.2022
The TOS-1 Buratino ("Pinocchio") system was developed back in the 1980s. The idea of themobaric or napalm rockets was to create a large cloud of flammable gas, also causing massive explosions in the process to clear out bunkers and fortifications of any kind on the battlefield. It was based on the trusted T-72 MBT chassis, production has remained ellusive, but the vehicle was modernized and also widely exported, seeing combat action since the fall of USSR.
Latest truck entry (on truck encyclopedia):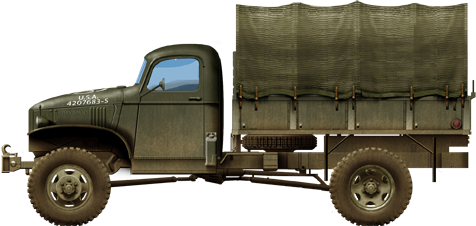 GMC G506 1.5 ton 4x4 truck (1940)
20.01.2022
One of the bedrock of allied transportation in WW2 was the G-506 truck, known in ordnance as the "1+1⁄2-ton, 4x4 cargo truck" which most prolific model was the G 7100 (originally G 4100), the standard light medium four wheel drive truck. It was also provided via lend-lease to US allies during the war, and still saw action in the cold war, with a multitude of specialized bodie. As the 6x6 GMC-353 was nicknamed "Jimmy", the G-506 was nicknamed "Chevy" in reference to Chevrolet.
Former entries
Shaanxi Baoji Tiger APC (2010)
19.01.2022
Called the ShaanXi Baoji Special Vehicle "China Tiger", the vehicle was first revealed at At Eurosatory 2012 Defence Exhibition by the Chinese defence Company Shaanxi Baoji Special Vehicles Manufacturing. This new 4x4 armoured vehicle personnel carrier was developed for the international market under the name "Tiger". Currently still produced, exported so far to Bahamas (2), Bolivia (24) and Somalia (12).
Chinese PLA ZBD-03 IFV (2002)
12.01.2022
Introduced in 2002, the Chinese ZBD-03 is today the mainstay of the Chinese PLA airborne divisions, as infantry fighting vehicle. It was first designed in 1998 and was produced in the 2000s to perhaps 1,500 vehcles, also declined into the specialized variants of Command Post and ATGMS tank hunter, mirorring the Russian BMD-2
2S25 Sprut SD (2005)
05.01.2022
Introduced in 2004, the 2S25 self propelled airborne and amphibious tank destroyer was produced at the Volgograd Tractor Plant, and circa 30 or less has been produced so far as of 2018. Replacement has been planned already and it seemed no further orders would be delivered. The vehicle is still actie in an operational airborne brigade with 24 vehicles today.
---
Semovente da 149/40 (1943)
28.12.2021
The Semovente da 149/40 was the ultimate, heaviest built Italian self propelled gun of WW2. It used the Cannone da 149/40 modello 1935, mated on a M15/42 M42 chassis by Ansaldo leading to a prototype in December 1942, but production setup dragged on until Italy capitulated, and the sole protoype ended in Germany.
Tank Encyclopedia
---
8,000,000 visitors and counting since 2011
History
Tank Encyclopedia started quietly as a SEO experiment by me with a scratch-built php website, well coded and lightning fast. The tank subject a that time was covered by already a dozen of websites, but there was room for a different concept. Being both an illustrator and webmaster specialist by trade was a gift for technical and aesthetic aspects, less so for the content itself, not being a tank nerd or native speaker. The team quickly took care of that and brought quality to a whole new level. The initial challenge was completed as in three years as the website's pages arrived on top of google, just behind wikipedia. It could have stopped there. But this story is obviously not over. The goal is still to cover ALL models, and in the long run, military vehicles at large, lass than the tanks prototypes covered on the homepage.
Legendary Illustrations
2000+ dedicated illustrations has been made since at least 2009, one of the most proficient collection of that genre on the planet. What makes them so special is the use of photorealitic patterns and elements on photoshop and a method that allow reuse of elements and "mass production". The aim of each page is to bring to modellers all possible references of sub-types and variants deduced from photos and references, with accuracy in mind, and a constant quality and style for easy comparison.
Did your knew military cars and trucks, TELs and other vehicles than tanks were covered ? Discover the military vehicle section
For Modellers
There was no particular angle taken by the author on tank encyclopedia, at first less for historians/nerds and more for modellers. These illustrations made their way in edition, from National geographic, to the World @ war series, Pen & sword, Amber books, and many other publishers, as well as in video and table games. But hold on, the final reference book for modellers is currently on the works. Schedule will depend of the current events (COVID curfew). This book will present perhaps three thousand color references for all armoured vehicles from WWI to this day, covering all nations. The absolute bible on this matter.
2015 archives
In 2015, now six years ago, the static php side was converted into a dynamic CMS with wordpress. Appearance was still quite striking by then. Click the image.
E-BOOK: Tank Encyclopedia's catalog
Enjoy the 2017 edition. A much larger 2022 edition is brewing, coming in December...